So, you have built a beautiful e-commerce store harboring amazing products. But, no one knows it exists.
Oops!
Now, that's where you need SEO. Critically.
What is E-commerce SEO? Why Does It Matter for E-commerce Entrepreneurs?
E-commerce SEO is a process that aims to enhance the digital presence of e-commerce websites. This process involves structuring the website, setting on-page/off-page SEO elements in place, addressing the technical aspects, and ligating the links.
It is a lot of work altogether. But it's worth it.
At times when 84% of the internet users thoroughly research before buying the product, SEO indeed helps you pave the way towards victory.
You can do it by yourself or hire someone for the same.
Bonus solution – You can get guidance from the people who are specialized in it. Talk with the most trusted E-commerce SEO firm in Kosovo. You get access to expertise, experience, and excellence, all at once.
Although social media marketing is catching pace rapidly, SEO still beats Facebook or Instagram ads when it comes to driving traffic.
We are not saying you can't sell through social media. You can. But the sales graph will go up more in the case of SEO.
This difference exists because SEO is a more natural way of selling. People come to Google especially looking for the product they are interested in. Either they want to gather the information or desperately want to buy it.
Whereas, on social media, people are seeking entertainment and not products. Of course, ads work but not as effectively as in the case of SEO.
Not to forget, SEO remains the more organic and budget-friendly option too.
Thereby, SEO supremacy is here to stay in 2022. In 2023. In further years as well.
At PROPER ICT, we have experimented with both Social Media Marketing and Search Engine Optimization. We create strategies strictly according to the platform used for marketing.
For now, we stick to SEO.
As the fastest growing E-commerce development agency in Kosovo, we have helped 10+ clients grow their revenue by 140% through SEO-driven strategies.
We are sharing the core strategies that are essential for succeeding in the e-commerce landscape.
4 Solid E-commerce Strategies That Enormously Increase Traffic, Sales, and Profits
1. Keywords Strategy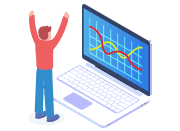 SEO begins with Keywords. Right keywords. Hence, catapult your keywords correctly and half of the battle is won.
By right keywords, we mean, the keywords that will help you rank higher in search results. The idea is to use the same keyword phrases as your potential customers are typing in the search box.
Always stick to keywords that have considerably high volume but low competition. Long trail keywords work even better. As they are more specific, they help to hit the bull's eye sharply.
While devising keyword strategy in e-commerce, user intent plays a key role. User intent is nothing but an indicator of different phases of the customer journey.
Look, not everyone interested in a particular product is in buying phase. First, people prefer to gather only information or research about the product. Then, some people have completed the research phase and are ready to buy it.
(Remember, we mentioned above, about 84% of people research about the product before making a purchase).
That is how users move through a marketing funnel. They research about the product, then they recognize the benefits of the product, and finally are ready to make a purchase.
Not everyone who lands on your website will buy. Some might take time to confirm their decision and others might never return. Bitter truth!
Generally, we define two keyword intents.
1. Informational intent
2. Commercial intent
The users with the commercial intent are more likely to buy from you. Nonetheless, users with informational intent also move through the buyer journey and buy the product.
Now, the point to ponder is how to extract commercial intent keywords and eliminate the other ones.
There are two ways to identify commercial intent keywords-
1. Check CPC – higher cost per click means the user is in buying phase. That's why the bidder is willing to pay a high amount for the keyword.
2. Detect deals or discount phrases in the keyword – most people look for discounts while purchasing things online. Look if there are keywords like, "best deals on HP laptop".
3. Acknowledge your analytics – by drawing the comparison between bounce rate and conversion rate on your website, you can figure out which keywords are driving purchase. There are many tools available for the same.
2. Off-Page SEO/Technical SEO Strategy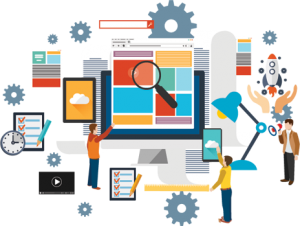 Off-page E-commerce SEO entails four main factors:
● Site loading time – 2 sec is an ideal loading time. Each time your site takes a longer time than this, you lose a potential customer.
● Responsive – make it for the mobile. 70% of the users shop online via their mobile phones.
● Site architecture – users much reach the product page within 3 clicks or less. Your site must not be complex. Complex structures confuse the visitors and they end up leaving the site.
● Schema Markup – product schemas are essential to get more rich results in the SERPs.
3. On-Page SEO Strategy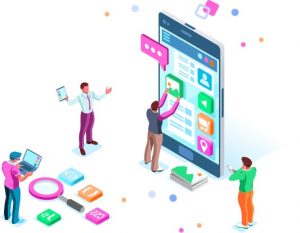 On-page SEO is all about visuals. The components you need to enhance for on-page optimization are:
● UI design – make it simple yet catchy
● Navigation – even a 10-year-old should be easily able to find every product listed in your store.
● Product Description – describe every necessary detail of the products. Insert keywords wherever they make sense.
● Embed images and videos – graphics are always the cherry on the cake. Embed compelling and clear images. Videos that show how to use your product and how the product will benefit them will lead to more sales.
4. Link Building Strategy
Will link building work in the case of e-commerce SEO? Definitely. It will.
Here are the things you can do for improving your site rank using link building:
● Write guest posts for high traffic blogs in your niche
● Create white papers and free eBooks. Insert links inside them to your catalogs/products wherever required.
● Leverage social media
● Incorporate links in customer reviews on the testimonials page
● Press Releases
● Add a blog section on your site and produce content consistently
Final Thoughts
So, by now, we know why SEO leads the way –
1. It's a natural form of selling
2. It's cost-effective
As we said, your customers will come searching for you. All you need to do is appear in their search results. And for that, SEO is vital.
Want SEO to work for your e-commerce website? Reach out to us today.
As a leading E-commerce development service provider in Kosovo, we deliver solutions that take you to the desired spot in your industry. Bring your project to Kosovo, today and brace up for a brighter tomorrow.