IT consultants are the biggest asset for any startup. They fill the void with experience, expertise, and instinct, which early-stage businesses are often deficient in.
IT consulting is important for startups and small businesses to outrank established competitors and scale faster with less risk.
As a leading IT consulting company in Kosovo, we ensure our clients reach their targets in less time. Our experts prepare a miraculous combination of technology and tactics that sets you apart.
What are IT Consulting Services?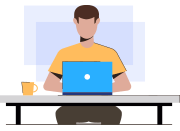 "What does an IT consulting company do? Why should I bother about IT consulting service?"
As a business owner, these questions might have pestered you at some point of time. Let us unfurl your dilemma with the help of a crude analogy.
Have you seen babies between 12-36 months of age? They are called toddlers. They can barely walk.
When supported by the parents, these toddlers evolve into children capable of walking, running, or jumping.
With further assistance, they become intelligent individuals who are ready to achieve whatever is possible.
A very similar role is played by an IT consultant when the business is in its infancy stages. That support is critical for startups and small businesses to operate, scale, and flourish. Just like that child, you can now stay at the forefront of whatever is possible.
IT consulting services entails-
Addressing architectural and functional aspects of the IT environment of a company
Creating and executing IT strategies
Aligning business goals with the best available technology
Implementation and management of IT infrastructure
Now, we talk about the key reasons for startups and small businesses to procure IT consulting services.
1. Laying The Roadmap
You are starting your dream venture. There are a lot of things to weave together. It is going to be a spree of endless tasks and infinite operations.
The work of an IT consultant includes guiding you with market research, competitive analysis, implementation of technology, management, and troubleshooting.
An IT consulting firm crafts a strategic roadmap. This will help you to hit the bull's eye faster and smarter.
2. Inventing Your IT Infrastructure
Information technology is a huge ocean. How will you find the pearls of your choice from this ocean?
IT experts are well-versed with technology. They will clear the fog of confusion and help you find the right fit.
Furthermore, risk-proofing your IT infrastructure is also important. An IT consultant not only helps you choose the appropriate tech tools but also renders your system secured.
You can be free from the stress of cyber-attacks, data breach issues, and existing loopholes in the system.
3. Cost-effective and Time-saving
Apparently, IT consulting services will cost you less than in-house IT experts. Also, the regular process of hiring takes too much time and energy.
Why not reach out to independent IT consultants and save both time and money?
Want the best IT consulting firm in Kosovo to help you break the ice? Reach to us here.
4. Build a Better Business
While taking a new road, you are unaware of the hurdles that may lie ahead. When you are new to the path of Entrepreneurship, having someone who has trodden that road before is a blessing.
Early-stage businesses often lack an 'expert eye. And that's where IT consultants empower you.
Expertise, Experience, and Excellence in their field – an IT consultant has it all. They make accurate predictions regarding market trends, technological aspects, and customer behavior which lead to more informed decisions.
This, in turn, boosts service quality, productivity, and confers agility to businesses.
How to Find the Best IT Consulting Company?
To gauge a right fit for IT consulting needs, stick to the factors listed below:
● Check the testimonials
● Verify the experience
● Find out if communication is convenient and you can collaborate smoothly
● Consider affordability and reliability criteria as well
Final Thoughts
Thinking of hiring a trusted IT consultant? Think of PROPER ICT. We are recognized as the fastest-growing IT consulting company in Kosovo.
From consulting to configuration, get everything under one roof. And that too, with the highest level of quality, accountability, and integrity.