It is a great time to step into the e-commerce landscape. The world is getting smaller, and markets are becoming global. The E-commerce industry is gaining momentum at faster rates than predicted. The expected rise for online shopping in 2020 was nearly 16%, but this value reached up to 19%. The more delightful fact is that e-commerce will be a $24,265.12 billion industry in the next five years.
If you aspire to be an avid e-commerce entrepreneur, this guide is all you need to go through. This beginner-friendly guide lays down the step-by-step process of making a professional e-commerce website with WordPress. Everything is explained in an elaborative and straightforward manner.
Get one-step closer towards manifesting your idea of an e-commerce platform into a reality.
What is WordPress and Woo Commerce?
WordPress is basically a Content Management System (CMS) meant for managing blogs and articles. In simple words, it's the easiest way to make any website.
The existence of amazing plugins and extensions radically increases the capabilities of WordPress websites. When it comes to creating an e-commerce store with WordPress, the Woo Commerce plugin is the key player.
Woo-commerce is an open-source plugin that turns the e-commerce website building process into a cakewalk. This exquisite plugin was developed by Mike Jolley and James Koster, who were developers at Woo Themes.
As of today, Woo Commerce powers 3.9 million online stores on the web. The reasons for this immense popularity of the plugin are many – great ease of use, clear user interface, powerful features, certain automation, helpful extensions, and a fully-functional e-com environment.
Altogether, WordPress is a perfect companion in building the next amazon or e-bay or just a simple online market where you can sell your products and ideas to the whole world.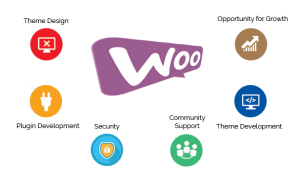 1. Find a memorable name for Your Store
The short and striking names are most memorable of all. Short names are easy for people to remember. At the same time, your store name should reflect your brand.
2. Get a Domain and Hosting
WordPress is free software, but domain and hosting will cost you a few dollars. There are many hosting service providers like CloudComputing.al that offer to host plans within budget. WordPress hosting plans by PROPER ICT are also worth the investment.
You can also buy a domain from the same platforms. The domain is your website name. Keep it short and fascinating.
For example, in www.proper-ict.com, "proper-ict" is our brand name. It signifies that we provide services in the ICT sector. Likewise, brainstorm a word that best defines the idea of your e-commerce store.
In the e-commerce realm, '.com' is the most widely used domain. You can also choose country-specific domains like  .uk for UK, .ca for Canada, and .us for USA. The disadvantage of using a country-specific domain is the diminished reach of your site. The presence of your site becomes confined to the digital audience of your country. It does not appear in global search results easily.
This means you are losing potential international customers. No marketer will ever want this to happen. Hence, '.com' is the best-suited domain for e-commerce websites.
3. Tweak up the Security
Maintaining strong security is a must for every online store. To bolster your security arrangements, get an SSL certificate for your website. This certificate costs $69.99/year, but there are cheaper and more expensive ones as well. Google has declared it mandatory to have SSL encryption for the websites that deal with credit cards and other confidential details of users.
4. Install Woo Commerce Plugin
Many people are familiar with WordPress but don't know how to use Woo Commerce. Don't be apprehensive anymore as this section covers the nitty-gritty of Woo Commerce, a magical wand that converts the WordPress website into an online store within minutes.
Woo Commerce is initially a free and open-source platform by WordPress. You can get started free of cost, though some extensions will require fees. However, you will have to hire a developer to customize it for your needs.
To install this plugin, head over to your WordPress dashboard and click on Plugins from the list of options. Enter "woo commerce" in the search bar. As soon as you find the plugin, hit the install button.
The plugin conciliates your store with fascinating features such as:
●  Optimized product pages
●  Add to cart and checkout options
●  Secure payments
●  Automated tax calculations
●  Shipping and delivery management options
●  Starring deals/discounts on products and creating coupons for customers
●  Social media integration
●  E-mail marketing inclusion
●  Google analytics integration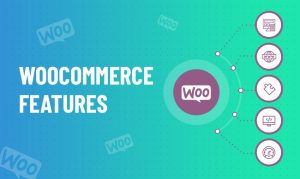 5. Complete Your Woo Commerce Setup
There appears a tool called setup wizard to guide through the setup process.
First of all, you will be required to fill in your business details. The kind of details asked are:
●  Location of your store/business
●  Address, city, state, and postal code
●  Currencies you will use to accept payments
●  Type of goods you wish to sell (digital or physical)
After entering your business details, the next task is to select payment methods. PayPal and Stripe are featured payment gateways by the woo-commerce. But you enjoy all the freedom to choose payment modes other than these two, based on your location, currencies, and customer profile. Woo Commerce also provides its users with the facility to create custom payment gateways.
Now, continue with setting up your shipping silhouette. Here you can customize several things like whether you want to charge for shipping or facilitate free shipping. Moreover, you can select regions where you ship for free and the regions you will be charging to deliver the goods. Also, you can modify the units for signifying product weights and dimensions according to your preference.
After this, Woo Commerce will take you to the recommended zone to be introduced to features like – themes for your store, e-mail marketing tools, tax automation, and social marketing. You can skip this step at the moment and continue later on when you feel ready to go with these awesome and helpful integrations.
The final step of the Woo Commerce setup requires the activation of a jetpack. Jetpack takes care of tax calculation, payment processing, and shipping label printing!
6. Add Products to Your Store
Woo Commerce claims that they manage sites with 100k+ products with good performance. The accommodation capacity for listing products can be increased even more. For now, it is time to showcase your very first product on your new digital store. Be ready with your product, catalogs. The catalog must include:
●  Name of product
●  Price of product
●  Clear images of the product (3-4)
●  Clear and catchy description of the product
After feeding the above details, go to the product data panel and select your product's befitting category. You will see six categories:
1. Simple – if the product does not have any variants (e.g., single-sized and unicolor handbag).
2. Grouped – if there is a collection of products (e.g., a combo of three shirts together.)
3. Affiliate – if you run a dropship or affiliate store, use the 'add to cart' option below your products, that redirects customers to external pages.
4. Variable – if there is a single product with multiple variations (e.g., a shirt with four color options, different sizes, etc.).
5. Virtual – if a product does not require a shipment (e.g., online courses).
6. Downloadable – if you have a digital product (e.g., e-books).
As soon as you are done with the above step, jump to the general tab, and enter the product's price in the boxes. One box asks for a regular price and another one for the sale price. The next move is directed towards managing inventory. Here you need to enter the SKU number, which is unique for each product. You can create SKU with a combination of alphabets and numbers. Then, come to shipping details by clicking the shipping tab on the left. The details asked are the weight and dimensions of the product. You can also select a shipping class for grouping similar products.
That's all. You are done with setting up your online store. Woohoo!
Now what? Hit the publish button, and you are ready to sell your products to the world.
E-commerce Extra Stroke
Here are some critical points to ponder upon while setting up your store;
●  Use the 'WordFence' plugin to add an extra layer of security for your customers.
●  Don't go for shared hosting. If one of the sites shared over your server gets hacked, yours will be vulnerable too. Better to avoid such a situation.
●  Use site reviews plugin. When you have positive user reviews on your site, you will eventually generate more sales.
●  Write short, persuasive descriptions with appealing images to trigger buying desire in visitors.
●  Use Yoast SEO plugin to enhance the visibility of your website on search engines.
                                                                                                                                             
Final Thoughts
E-commerce has enormous potential. Those who are willing to work hard will turn the tides in their favor.
Getting started with an online selling portal is challenging in today's times as competition is at its peak. E-commerce entrepreneurs have countless tasks, from market research to winning product design and much more.
PROPER ICT can help you save time, money, and efforts by designing the quintessential e-commerce website using WordPress. You take charge of selling, and we take care of the framework of your website.
Now, sell your products seamlessly across oceans with the website furnished by a team of expert and experienced individuals. Contact us and get your foot on the ladder of e-commerce.